Treat Hyperpigmentation in Christchurch
Erase all the pesky marks & blemishes.
 Combat Textured Skin and Dramatically Reduce Discoloration With Our Flawless Skin Treatment Program!
THE BEST HYPERPIGMENTATION SKIN PRODUCTS & TREATMENTS IN FENDALTON CHRISTCHURCH
What is Hyperpigmented Skin?
Hyperpigmentation can be categorised under three major types –
1)  sun damage spots,
2) post-inflammatory – such as acne scars, or
3) hormonal imbalances – such as melasma, usually caused due to pregnancy (yeah, not exactly the pregnancy glow you hope for). 
Tyrosine is responsible for the production of melanin, which is what gives your skin its pigment. Depending on the genes and the amount produced, it can range from light to dark.
The problem arises when your skin is exposed to an external or internal threat, such as sun damage, hormonal imbalances, or acne scarring.
So while you're enjoying your sun-tanning session, here's what's happening in your body: an enzyme known as tyrosinase signals the additional production of melanin, to protect the skin from harming itself.
This, in result, is what causes hyperpigmentation, which appears as dark, uneven spots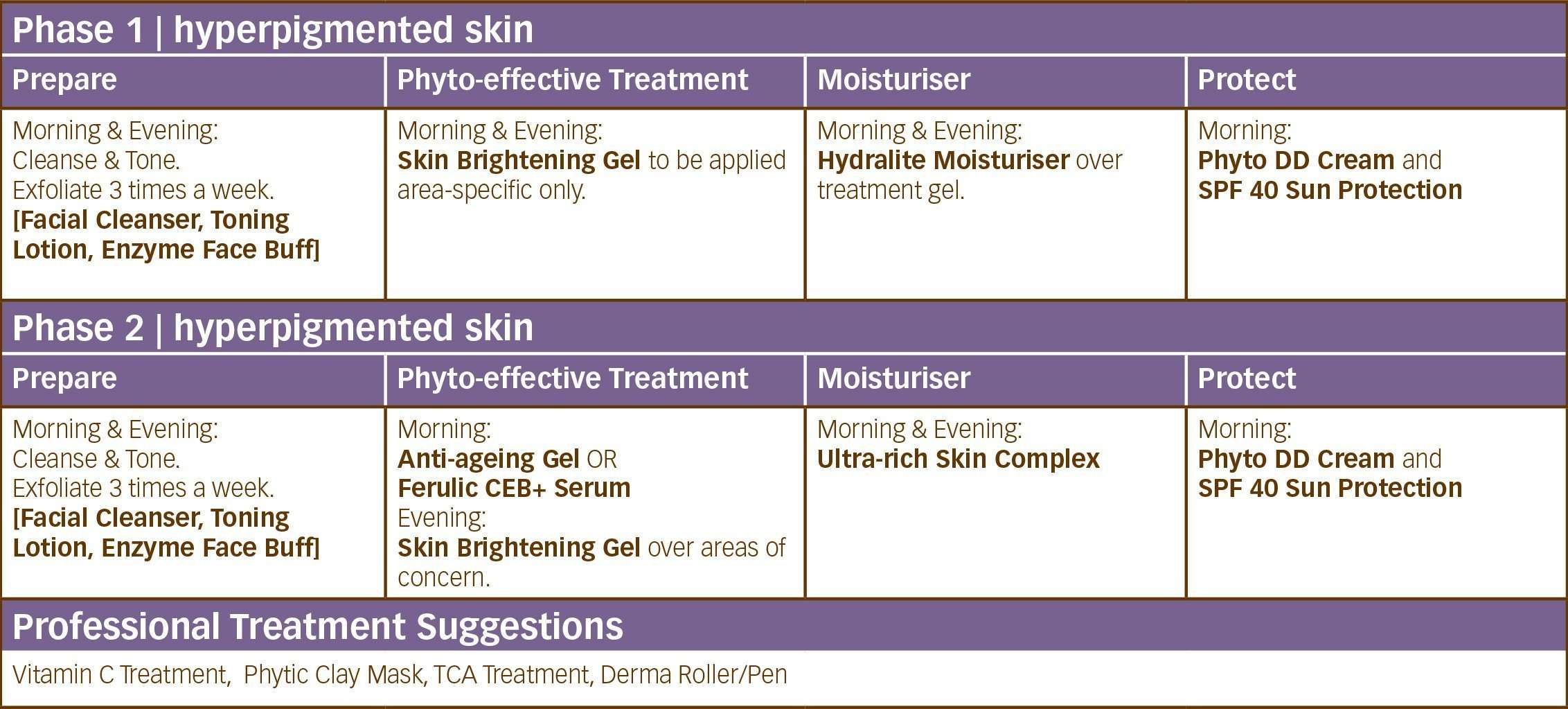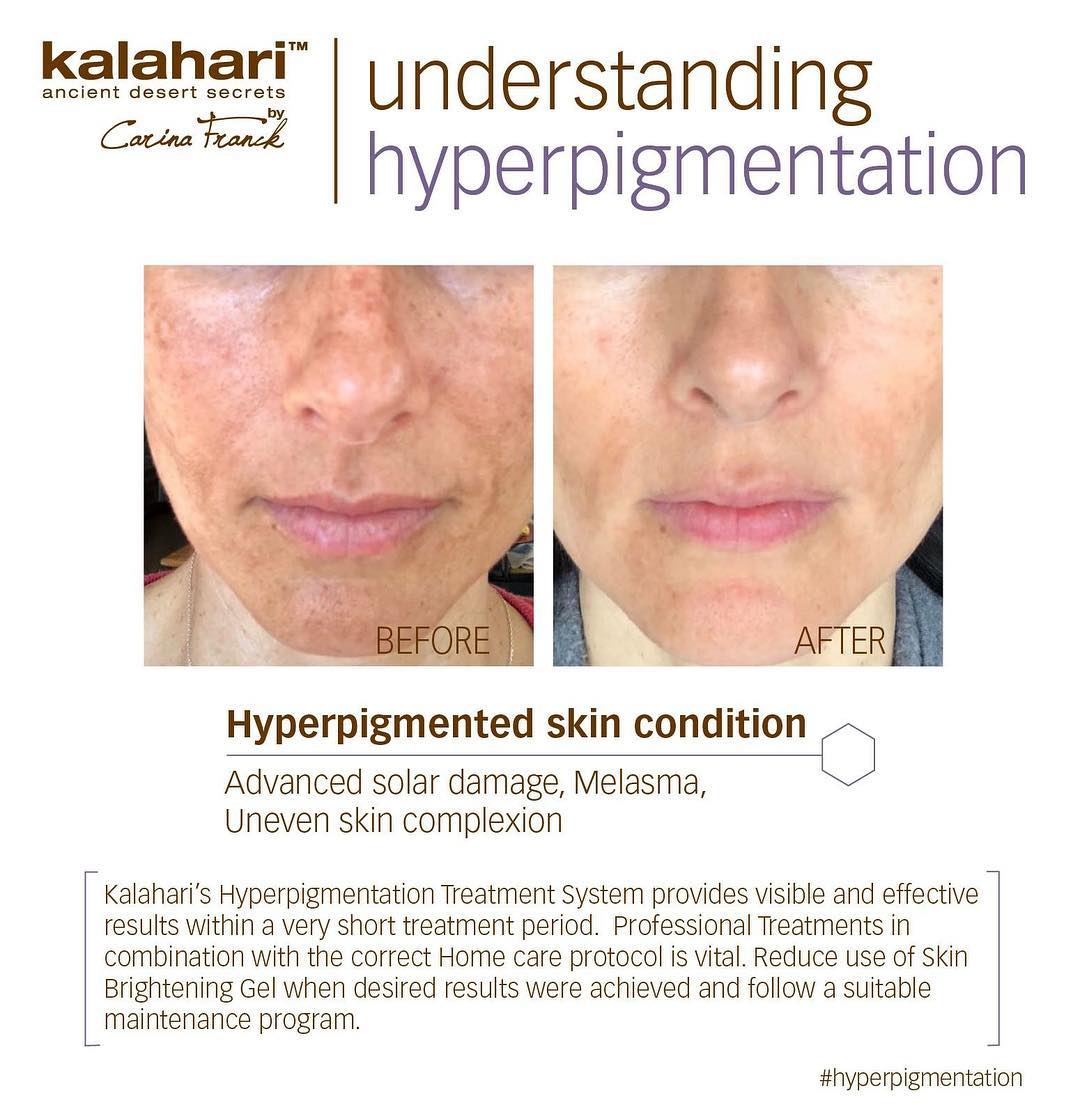 Even Out Your Skin Tone and Get Instant Results With Our Treatments
Kalahri has worked endlessly to devise an effective treatment to target hyperpigmented skin.
It is a dual treatment approach which combines the powers of innovative ingredients – Bearberry extract, which inhibits melanin production, and Carob leaf extract, which reduces tyrosinase activity.
We also incorporate a skin brightening gel that includes salicylic acid, which helps unclog pores and deeply exfoliate them.
Following this, we apply Devils Claw extract, which acts upon reducing inflammation.
For visibly brighter and even-toned skin, we recommend using the Phytic Clay Mask in combination with our prescribed home-care treatment protocol.
Following our skin-care regime, we guarantee that you will definitely be needing a lot less concealer to hide those stubborn, dark spots.
Professional hyperpigmentation skin treatments
VITAMIN C SKIN TREATMENT
SUITABLE FOR: All Skin Conditions.
This is an de-aging treatments that boosts collagen and elastin using Vitamin-C while firmly making your skin appear visibily firm, brighter and tighter
PHYTIC CLAY TREATMENT
SUITABLE FOR: all skin conditions
The treatment helps fight any and all signs of aging – giving you youthful, radiant skin that you've always dreamt of!.
Microneedling | Skin Needling
SUITABLE FOR:  all skin conditions 
This treatment improves fine lines and wrinkles while minimizing the pores, evening out the skin tone (pigmentation) & eliminating sagging.
IPL SKIN REJUVENATION
SUITABLE FOR: all skin conditions.
The best treatment for any sort of blemishes and acne scarring
Green light therapy
SUITABLE FOR: ALL SKIN, INCLUDING YOUNG SKIN.

RED LIGHT: De-ageing, Fine lines and wrinkles, increases collagen production and blood flow, speeds up healing, scarring, inflammation and over all skin rejuvenation.